On October 24th, my wife Sherry and I co-hosted the NEXT Awards at the Schermerhorn  Symphony Center. We had so much fun hosting this Nashville black tie event again. We are grateful for the opportunity to honor some of the most impressive, established, and emerging  individuals in the Nashville community. Nearly 750 people came out for the event this year, filling all the tables on the floors, the boxes on the balcony, and even the seats in the upper balcony, all to honor friends who were receiving awards.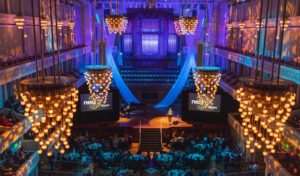 This year we had the privilege of welcoming four business owners into the Entrepreneurs' Hall of Fame. These honorees were: 
André Prince, the owner of Prince's Hot Chicken who took the brand and famous recipe out to

the world.

Mike Shmerling, founder of 11 companies who also started

Abe's Garden Community, a senior living nonprofit serving elders with Alzheimer's. 

Steve Turner, the founder of MarketStreet Equities, which was responsible for the redevelopment of the Gulch neighborhood. 

Amy Kurland, founder of Nashville's legendary Bluebird Café. 
One of the night's major highlights included an appearance by country music star Garth Brooks. He graciously presented and inducted Amy Kurland into the Hall of Fame.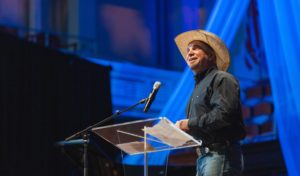 Notable individual winners were to Amy Green, founder, and owner of the Nashville Collaborative Counseling Center, as the Emerging Entrepreneur of 2022, and Meg Epstein, of CA South, a real estate development and investment firm, as the overall Entrepreneur of the Year! 
The event honored 15 other businesses, recognizing those at various levels and categories, including both startups, emerging companies, and market movers, in the spirit of honoring entrepreneurial growth! 
Overall, Sherry and I had such a great time guiding this show. All the entrepreneurs and growing businesses are so impressive and have transformed their respective industries both in Nashville and around the world. We are proud to say we raised just under $600,000 for the community, with Amazon  anchoring the event as the presenting sponsor. We have already been asked to do it again next year! View additional pictures and videos of the event at ec.co/next-awards.
Individual Honors Include: 
Entrepreneur of the Year 
This award recognizes companies with more than $3 Million in annual revenue, which was won by Meg Epstein of

CA South

, a real estate development and investment management firm. 
Emerging Entrepreneur of 2022 
Business Awards: 
The business awards were divided into five categories and honored startups, emerging companies, and market movers in various industries and were segmented by annual revenue. 
Startups – Up to $1M in Annual Revenue: 
Emerging Companies – $1-3M in Annual Revenue: 
Market Movers – $3M+ in Annual Revenue: