There are 14,000 people living in downtown Nashville today with a housing occupancy that is higher than our peer cities. We have certainly come a long way since the first residents began moving downtown in the early 2000s.
Nashville Downtown Partnership's annual study of urban housing market found there are now 9,511 apartments, condos and single-family homes in downtown Nashville. The downtown population has grown 152% since 2010, reaching 14,000 people in 2020.
With our downtown housing occupancy now at 93.4%, that's higher than our peer cities of Austin (90%), Charlotte (91%) and Indianapolis (87%). We also top Denver (88.2%) and Seattle (89.6%).
The Downtown Partnership started in 1994 to make downtown Nashville the most compelling urban center in which to live, work, play and invest in the Southeast. At that time, there wasn't much activity in the city center at the end of the workday or on weekends. Buildings were vacant or underutilized. There was little housing downtown and zoning codes restricted the creation of mixed-use and residential projects.
That zoning changed in the late 1990s and was further enhanced with the Downtown Community Plan 2007. It provided opportunity for people who wanted to live in a walkable urban neighborhood instead of commuting from the suburbs.
My young residential real estate company, Village, got to work helping bring residents downtown. We conducted a strategic planning process to better understand the multifamily residential market. We looked at patterns in other cities like Chicago and Vancouver who were way ahead in the urbanization movement.
We started selling a new lifestyle. We hosted bus tours and conducted foot tours through vacant buildings at the Kress, the Exchange, the Westview and Utopia. We were writing contracts for early pioneers who would help forge the path for the renaissance of downtown.
Fast forward to the present day. High-rise condos dot the Nashville skyline from the riverfront west through Midtown. New apartments on Rolling Mill Hill rent quickly. Condos in the Rutledge Hill neighborhood are in high demand, including CityLights. The Four Seasons condominiums at riverfront and the Residences at Broadwest in Midtown bookend the downtown core.
The Gulch is a LEED-certified neighborhood populated with residences, hotels, places to eat, shop and a greenway that walkers, runners and cyclists will eventually be able to take all around the city. It has become one of the most popular communities in Nashville's urban core and my CityLiving Group residential sales team has helped both in-town and out-of-town buyers find homes there.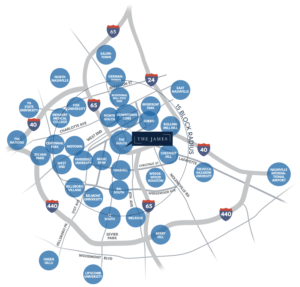 We are currently marketing The James, 31-condominium residences with one or two bedrooms. Located on a quiet street in The Gulch, The James has the ambience of a boutique New York condo building with amenities to match.
Residential growth will continue to climb in Nashville's urban core. It is expected there will be 21,000 people living downtown by 2024.
Would you enjoy the convenience of living in a walkable downtown neighborhood? We helped the early adapters of downtown living find their place. We would welcome the opportunity to help you find your urban home too.